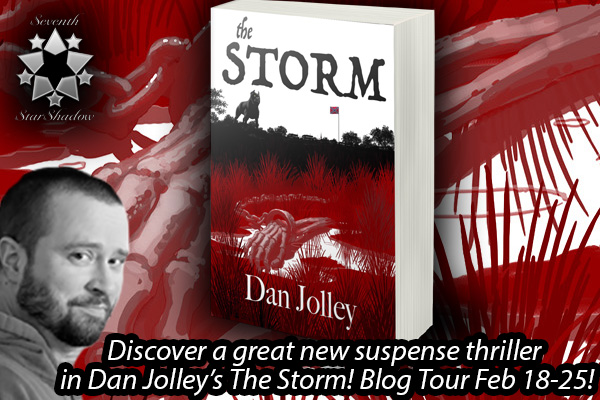 Dan Jolley's The Storm Blog Tour
February 18-25, 2019
Discover a great new suspense thriller in Dan Jolley's The Storm Blog Tour, taking place February 18-25!
An intense tale that explores murder, mystery, and race relations in a rural area of modern day Georgia, The Storm delivers a captivating reading experience!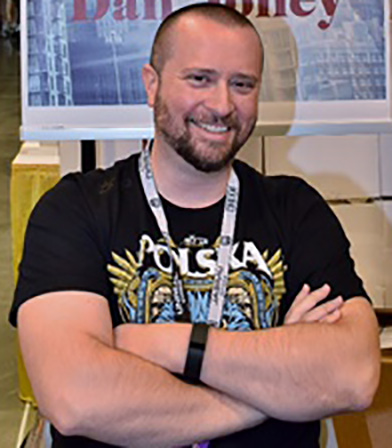 About the author: Dan Jolley began writing professionally at age 19. Starting out in comic books, Dan has worked for major publishers such as DC (Firestorm), Marvel (Dr. Strange), Dark Horse (Aliens), and Image (G.I. Joe), and soon branched out into licensed-property novels (Star Trek), film novelizations (Iron Man), and original novels, including the Middle Grade Urban Fantasy series Five Elements and the Urban Sci-Fi Gray Widow Trilogy.
Dan began writing for video games in 2007, and has contributed storylines, characters, and dialogue to titles such as Transformers: War for Cybertron, Prototype 2, and Dying Light, among others. Dan lives with his wife Tracy and a handful of largely inert felines in northwest Georgia, and enjoys connecting with readers via his website (www.danjolley.com) and on Twitter (@_DanJolley).
Book Synopsis for The Storm:
RED SPRINGS.
A tiny town in Georgia's northwest corner — ninety-five percent white. Five percent black. Utterly unprepared for the devastating tornado that rips and smashes through it one dark August day.
SHERIFF ZANDRA SEAGRAVES already faced an uphill battle. Elected by a fluke, Red Springs' first-ever black, female sheriff leads the recovery efforts, despite knowing how much the townspeople–and her own department–loathe her. But Zandra has no idea just how hellish things are about to get.
Because one of the relief workers stumbles across a ghastly secret: the tornado tore a long-abandoned house off its foundations, revealing a grisly, recently-used torture dungeon below it.
A monster has been dwelling in Red Springs. Undetected for years. Preying on the unsuspecting populace. His atrocities only brought to light because of the storm.
Now, amid the tornado's wreckage and surrounded by people who want her gone, Zandra has to hunt this monster down before he disappears again.
And to do it, she'll have to peel back all of Red Springs' dark, corrupted layers. One vile secret at a time.
Author Links:
Twitter: @_DanJolley
Website: www.danjolley.com
Tour Schedule and Activities
2/18 Jazzy Book Reviews https://bookreviewsbyjasmine.blogspot.com/ Top Ten's List
2/19 I Smell Sheep http://www.ismellsheep.com/ Vlog
2/20 Breakeven Books https://breakevenbooks.com Guest Post
2/21 Sheila's Guests and Reviews http://sheiladeeth.blogspot.com Guest Post
2/22 Jordan Hirsch http://jordanrhirsch.wordpress.com Review
2/23 Sapphyria's Books https://saphsbooks.blogspot.com/ Guest Post
2/23 The Book Lover's Boudoir https://thebookloversboudoir.wordpress.com/ Review
2/24 Horror Tree https://www.horrortree.com Guest Post
2/24 Willow's Thoughts and Book Obsessions http://wssthoughtsandbookobsessions.blogspot.com/ Review
2/25 The Voluptuous Book Diva http://www.thevoluptuousbookdiva.com Guest Post
Amazon Links for The Storm
Print Version: https://www.amazon.com/Storm-Dan-Jolley/dp/1948042665/
Kindle Version: https://www.amazon.com/Storm-Dan-Jolley-ebook/dp/B07LC78379/
Barnes and Noble Link for The Storm: https://www.barnesandnoble.com/w/the-storm-dan-jolley/1130007043?ean=9781948042666