Welcome to a creative kind of tour!
Seventh Star Press has five brand new anthologies, in five distinct areas. Dystopian, Paranormal/Ghost Stories, Horror/Dark Urban Fantasy, Fantasy, and Speculative Fiction as a whole, and we've got quite a lot to offer you on this tour!
With a big bunch of wonderful authors and editors, what's the best way to present this in a virtual tour? We have the answer…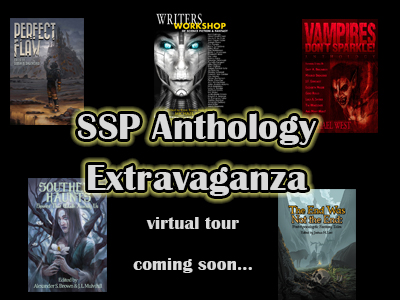 The SSP Anthology Extravaganza!
Running from May 16 all the way to June 19th!
Blog sites choose the anthology they desire to feature, and then pick a date. No two sites will be featuring the same anthology on the same day, the way we have this set up!
We will have a tour-wide contest that features an Amazon Gift Card and many other prizes, most of which allow winners to choose the anthology of their choice in softcover or eBook formats.
We've also got a way to get a large number of the various authors and editors featured. Don't worry, if there's a specific author or editor you'd like to feature on your day, we are taking requests and will do our best to get that person. We are seeking to have several authors and the editors of each book featured in each group of dates specific to one anthology.
Of course, some authors are more available than others, but there will be a ton of variety along the course of this tour! (only slight exception is Writers Workshop of Science Fiction and Fantasy, where we will be a little more limited on dates offered and the number of authors/editors involved.)
It is going to be a big virtual tour, with a lot of crossover fun that we hope will generate some great traffic for all of you. Feel free to sign up for more than one specific anthology, that's no problem at all, but to keep dates straight you will just have to fill the form out again for each anthology date request.
Now, for a little on the five anthologies being offered: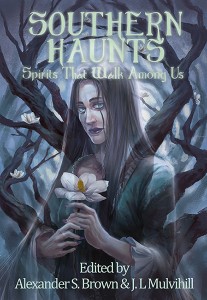 Genre: Paranormal/Ghost Stories
Southern Haunts (editors Alexander S. Brown and J.L. Mulvihill): From the shadowed realms of the paranormal comes 16 chilling tales that dwell in the South and Southwest. Resurrected in your very hands are stories that will make you laugh, ponder, and shiver as the reader is introduced to spirits that are humorous, saddened, and vengeful.
From 16 authors, learn of haunted homes, buildings, landmarks and roads where restless entities from beyond the grave desire acknowledgement amongst the living.
Become acquainted with the aftermath of an eclipse that awakens the dead in a Memphis cemetery, see what horrors dwell in the woods at Hell's Gate, learn the dark secrets of Sidney's Cotton, and dare to travel down Ghost Road.
These and many other tales are sure to keep you awake as you are introduced to what makes the South and South West so unique…. History and GHOSTS!!!!!
So, sit back, dim the lights and prepare yourself to face the spirits that walk among us.
Windsong Levitch – "Interview for a Ghost Hunter"
H. David Blalock – "An Eclipse Over Elmwood"
Richard Parks – "Sydney's Cotton"
Jason Hughes – "Ghost Road"
Herika R. Raymer – "Cal's Cutoff"
Diane Ward – "The Shack"
Roland Mannn – "Haints"
L.S. Nadler – "You Will Come to Meet Your Demise"
M.R. Williamson – "Hell's Gate"
William R. Eakin – "Maddness"
Roman Merry – "Wellspring"
Kalila Smith – "The Bequest"
Miguel L. Viscarra – "The Cleansing"
J.L. Mulvihill – "Bath 10″
Angela Lucius – "Nightmares at Moccasin Bend"
Alexander S. Brown – "The Top Floor"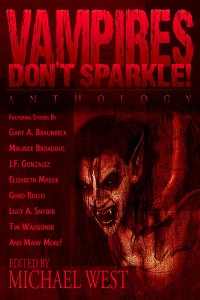 Genre: Horror/Dark Urban Fantasy
Vampires Don't Sparkle! (editor Michael West): What would you do if you had unlimited power and eternal life?
Would you…go back to high school? Attend the same classes year after year, going through the pomp and circumstance of one graduation after another, until you found the perfect date to take to prom? Would you…spend your days moping and brooding, finding your only joy in a game of baseball on a stormy day? Or would you…do something else? Anything else?
The authors of this collection have a few ideas; some fanciful, some humorous, and some as dark as an endless night. Join us, and discover what it truly means to be "vampyre."
Edited by Michael West
Foreword by Michael West
"A New Life" by J. F. Gonzalez
"What Once was Flesh" by Tim Waggoner
"The Darkton Circus Mystery" by Elizabeth Massie
"Robot Vampire" by R. J. Sullivan
"Beneath a Templar Cross" by Gord Rollo
"The Weapon of Memory" by Kyle S. Johnson
"The Excavation" by Stephen Zimmer
"Skraeling" by Joel A. Sutherland
"Dreams of Winter" by Bob Freeman
"Dracula's Winkee: Bloodsucker Blues" by Gregory L. Hall
"I Fuck Your Sunshine" by Lucy A. Snyder
"A Soldier's Story" by Maurice Broaddus
"Rattenkönig
" by Douglas F. Warrick
"Vampire Nation" by Jerry Gordon
"Curtain Call" by Gary A. Braunbeck
Genre: Dystopian
Perfect Flaw (editor Robin Blankenship): Readers everywhere are invited to experience adventures of a dystopian nature in the anthology Perfect Flaw, from editor Robin Blankenship! Featuring seventeen speculative fiction tales, spanning many genres, Perfect Flaw explores the subject of societies gone wrong.
From "utopian" societies masking an underlying controlled state, to stories of people fighting back against repression, in hopes of a better world, the flaws that create a dystopian atmosphere are brought to light. Thought-provoking and entertaining, Perfect Flaw will be a welcome addition to any reader's collection of dystopian literature.
Leslie J Anderson – "Michael's Gate"
Jason Campagna – "Hope Unknown"
Frank Roger – "Cracks in the Concrete"
Mandi M. Lynch "Under a Pomegranate Sky"
Shaun Avery – "The Job Hunter"
Cathy Bryant – "Cost Benefit Analysis"
Carolyn M. Chang – "Smilers"
SC Langgle – "The Bird Below Ground"
Delphine Boswell – "Tomorrow's Children"
Tanith Korravai – "Your Comfort is Important to Us"
DeeDee Davies – "The Ultimate Sale"
Ellen Brock – "Useless"
Herika R. Raymer – "Seventh Degree"
H David Blalock – "Guardian"
H.S. Donnelly – "First Head"
Jay Faulkner – "System Error"
Michael O'Connor – "The Choosing"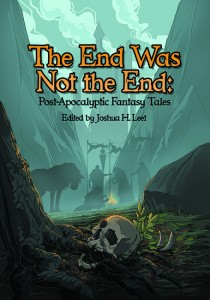 Genre: Fantasy
The End Was Not the End: Post Apocalyptic Fantasy Tales (editor Joshua Leet): Heroes prevail… usually. You sit close to a campfire, depending on its faint, flickering light to ward off the darkness. Yet the fire cannot hold back dark memories, thoughts of your fallen kingdom, of monsters across the land, of magic gone awry. Around fires like yours are seated other travelers, refugees from catastrophes none dare mention. Kings and queens huddle shoulder to shoulder with peasants, wizards share scraps with slaves, and each wishes only to be saved.
Some will be lucky, for heroes yet remain in their lands. For others, hope was not among the provisions stuffed into a pack when fleeing home. Eventually the silence of the night grows too heavy, and someone speaks. They tell a tale of loss, of foolish pride and tragic mistake. With bravery stoked by company, others speak up, each sharing their own sorrows. Before long, there are enough tales to fill a volume.
The conversations continue through the night, and by the time dawn has filtered through the gnarled tree limbs, journeys must continue, and one by one, the strangers trudge away. Their worlds may have ended, but they have survived another night. They will continue on, seeking to rebuild upon the ruins of great dreams. Their stories linger upon the air, drifting into time like the smoke from their extinguished fires, fed only by faint embers.
This book contains eleven stories set in worlds where an apocalypse has already come, but the characters you'll read about aren't quite ready for the end.
This anthology includes the following authors and stories:
Deedee Davies – "The Halls of War"
Desmond Reddick – "Blood and Fire"
Scott Sandridge – "Make Way for Utopia"
Jay Wilburn – "Twenty Year Plan"
Mandi M. Lynch – "Nightmares and Dragonscapes"
Magda Knight – "The Stone-Sword"
William Ransom – "In the Hills Beyond Twilight"
Steven S. Long – "Blade of Fire"
Bill Blume – "Waist Deep"
Darra L. Hofman – "Ben"
Nathen Gallagher – "Story's End"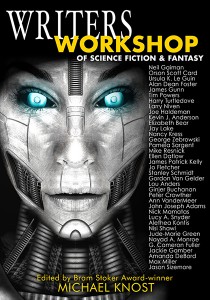 Genre: Speculative Fiction
Writers Workshop of Science Fiction & Fantasy (editor Michael Knost): Writers Workshop of Science Fiction & Fantasy is a collection of essays and interviews by and with many of the movers-and-shakers in the industry. Each contributor covers the specific element of craft he or she excels in. Expect to find varying perspectives and viewpoints, which is why you many find differing opinions on any particular subject.
This is, after all, a collection of advice from professional storytellers. And no two writers have made it to the stage via the same journey-each has made his or her own path to success. And that's one of the strengths of this book. The reader is afforded the luxury of discovering various approaches and then is allowed to choose what works best for him or her.
Featuring essays and interviews with:
Neil Gaiman
Orson Scott Card
Ursula K. Le Guin
Alan Dean Foster
James Gunn
Tim Powers
Harry Turtledove
Larry Niven
Joe Haldeman
Kevin J. Anderson
Elizabeth Bear
Jay Lake
Nancy Kress
George Zebrowski
Pamela Sargent
Mike Resnick
Ellen Datlow
James Patrick Kelly
Jo Fletcher
Stanley Schmidt
Gordon Van Gelder
Lou Anders
Peter Crowther
Ann VanderMeer
John Joseph Adams
Nick Mamatas
Lucy A. Snyder
Alethea Kontis
Nisi Shawl
Jude-Marie Green
Nayad A. Monroe
G. Cameron Fuller
Jackie Gamber
Amanda DeBord
Max Miller
Jason Sizemore
Special Note on Writers Workshop of Science Fiction & Fantasy Dates:  The limited number of dates offered for Writers Workshop of Science Fiction & Fantasy makes sure we don't conflict with some activity going on earlier in the month surrounding this book's kickoff with our friends from Jitterbug PR and Full Moon Bites.  We ask that if you are also a host for either of these wonderful tour groups that you give the preference for a Writers Workshop date to one of them, and choose one of the other anthologies offered here for your date with us.  We'd be glad to have you for an encore on this tour for this book, if you want to do that, but we want to encourage you to participate with them first during the kickoff events the first part of May..
So, now that you have some information on the five anthologies, here is the sign up form! Claim your date and anthology of choice today on this exciting tour!