Carl R. Moore Blog Tour
February 26 to March 4, 2018
Explore the writing of a highly-gifted new author, whose first release Slash of Crimson and Other Tales contains a range of tales in the areas of alternative mythology, horror, and crime noir!  Come aboard a blog tour featuring a very promising new author!
Synopsis of Slash of Crimson and Other Tales: SLASH OF CRIMSON AND OTHER TALES offers two novellas and six short stories that combine an intoxicating mix of horror, crime noir, and alt-mythology. Its title story spins a dark maritime yarn about Drew Aldrin, a young guitarist and street rough, who takes a harrowing journey with a red-eyed beauty who claims she's from Atlantis. The half-dozen brutal and sardonic short stories that follow tell of lost souls tortured by demons and far worse. The final novella, Torn from the Devil's Chest, serves unsuspecting Sociology student Lyla Banes a deliciously disturbing feast of deception and trust-destroying lust. Indulge yourself in a collection that guarantees to thrill the senses while it shocks the nerves.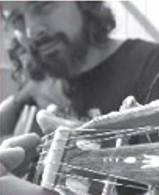 About the Author: CARL R. MOORE lives in upstate New York with his wife Sarah and two daughters, Maddy and Izzy. His fiction has appeared in numerous other magazines and anthologies. When he's not writing or working the night shift, he enjoys playing guitar and walking miles through the woods. News and contact information can be found on his website, www.carlrmoore.com