Daniel Dark Knife's Tell Blog Tour
March 28 to April 3, 2018
A new exploration of Jack the Ripper in the shadows of the Victorian Age awaits you, filled with horror and erotica stylings, in Daniel Dark's debut novel Knife's Tell! This is one blog tour you do not want to miss out on if you enjoy Jack the Ripper lore and the Victorian Age, featuring a new voice in the genre! Sign up today for this fantastic tour!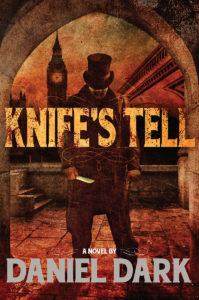 Synopsis of Knife's Tell: Taking readers into the shadows of the Victorian Age, Knife's Tell is an erotically-laced horror tale that fans of Jack the Ripper are sure to love! There's a special bonus too, as the back of the book also features an index of recipes for the Victorian dishes encountered in the tale, for those who might like to try such cuisine out!
Knife's Tell is not about those murders, but the life behind them. What would cause a normal person to slay in such a horrific way?
Daniel Dark has explored an alternative tale of a doctor lost in reality trying to correct his past. With the help of his personal servant, he searches the Chapel for answers about his connection to the man with the knife.
Where did he come from? And how is the doctor part of his plans for escaping the police at every turn?
Read Knife's Tell to learn the story behind the blade that killed London.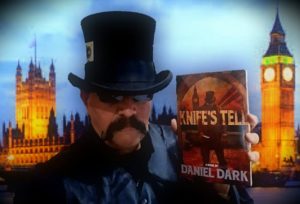 About Daniel Dark: Daniel Dark, a native of Nashville, Tennessee, grew up with homicide every day. Having a homicide detective as a father, he was able to learn about those that were brought to justice, and the ones that were not.
Spending many hours in Central police headquarters and in his grandfathers hematology lab gave Daniel an unusual childhood and a love for science. Along with this, his great uncle owned the oldest book store in Nashville. His parents took him there regularly, where developed a love of reading and found out about history.
Daniel went on to become an Electrical Engineer and Industrial Maintenance Manager till NAFTA took away his job. A year later he went to culinary school and studied Victorian cooking, after which he opened a Victorian-style restaurant.
He became a heart attack and stroke survivor at fifty years old, where he used writing to rehabilitate his brain. The first book written by Daniel was on Victorian Catsup, which had over two hundred catsup recipes in it from the late 1700's to 1910, with over sixty different flavors. Daniel used the book to start his 1876 Catsup company as Mr Catsup.
Knife's Tell represents his debut novel as an author.
Sign up today for this great blog tour using the form below!