Tomorrow Comes Media invites you on a steampunk adventure, in Jason C. Conley's The Kingdom of Vosh (Dark Oak Press)
Lots of activities and lots of options!  There will be a tour-wide contest, and we'd love for you to do a review.  There will also be guest posts, character posts/interviews, promo spotlights, top tens lists, and you can suggest your own unique activity if you have something in mind!   The Virtual Tour runs from November 20th to December 20th!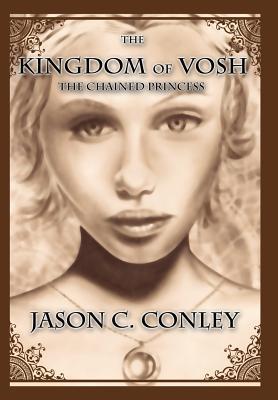 About The Kingdom of Vosh:  Secrets have been formed in the dark corners of the kingdom. Change is in the air and whispers of new ideas and technologies have swept the land. Unfortunately, the King is old and simple and his daughter is concerned only with worldly possessions. A man by the name of Buul, a man long forgotten, has returned to pay a visit to the King on the King's birthday. He has not come empty handed and will be the King's undoing.
The King, in moments of panic and war, can trust no one with the protection of his daughter. He quickly decides to entrust her life with a creature most vile and uncommon and chains her to a Vork. He does not leave her empty handed though. His last gift to the Princess is an amulet with powers even he does not comprehend. The land's only chance, the only one loyal to the King's memory, is the daughter that cares nothing of the Kingdom of Vosh.
About Jason C. Conley:  In 1999, Jason Conley drew a picture of a young woman's face. It eventually became the cover of the book you now hold. When not consumed by writing or art, Jason canoes, fishes, and hikes the rolling hills of Tennessee with his family.
There are secrets to this world we live in. Some faintly whispered, otehrs hidden in plain view. Some of those secrets have been carefully placed throughout this book. Truth and fiction, it is what we try to discern between every day, though I wonder is it even recognizable anymore?
Do we know the truth or are we simply told what to believe in and what is real? It is a journey we are all on. It will be up to you to decide which parts are which.
Break loose of those chains and look around you, because the truth… will set you free.
Sign Up Today!
Come aboard today and explore The Kingdom of Vosh! Please pick your dates and activity from the multiple-choice options. You will be able to indicate your preferred request in one of the questions.