Tomorrow Comes Media invites you back into the realms of Southern Haunts, with the third installment of the growing franchise!  Magick Beneath the Moonlight takes you into a world of witches, voodoo, and magic, with a new batch of tales brought together by editors Alexander S. Brown and Louise Myers.
The Southern Haunts tour will take place from Monday, May 2 through Sunday, May 8th!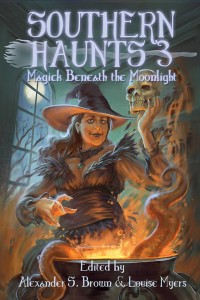 Synopsis: Deep within the South, read about the magickal folk who haunt the woods, the cemeteries, and the cities. Within this grim anthology, eighteen authors will spellbind you with tales of hoodoo, voodoo, and witchcraft.
From this cauldron mix, readers will explore the many dangers lurking upon the Natchez Trace and in the Mississippi Delta. They will encounter a bewitched doll named Robert from the Florida Keys, and a cursed trunk that is better left closed. In the backstreets of New Orleans, they will become acquainted with scorned persons who will stop at nothing to exact their revenge.
These hair raising tales and more await you in Southern Haunts 3: Magick Beneath the Moonlight. Read if you dare.
Authors:
Alexander S. Brown
Angela Lucius
H. David Blalock
C G Bush
Della West
Diane Ward
Elizabeth Allen
Greg McWhorter
John Hesselberg
Jonnie Sorrow
Kalila Smith
Linda DeLeon
Louise Myers
Melissa Robinson
Melodie Romeo
J L Mulvihill
Robert McGough
Tom Lucas
Southern Haunts: Magick Beneath the Moonlight is the third title in the Southern Haunts Anthology Collection
About the Editors: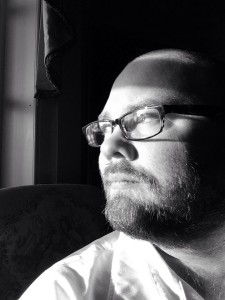 Alexander S. Brown: Alexander S. Brown is a Mississippi author who was published in 2008 with his first book Traumatized. Reviews for this short story collection were so favorable that it has been released as a special edition by Pro Se Press. Brown is currently one of the co-editors/coordinators with the Southern Haunts Anthologies published by Seventh Star Press. His horror novel Syrenthia Falls is represented by Dark Oak Press.
He is also the author of multiple young adult steampunk stories found in the Dreams of Steam Anthologies, Capes and Clockwork Anthologies, and the anthology Clockwork Spells and Magical Bells. His more extreme works can be found in the anthologies Luna's Children published by Dark Oak Press and State of Horror: Louisiana Vol 1 published by Charon Coin Press.
Visit Smashwords.com, Amazon.com, and Barnesandnoble.com to download his monthly short stories known as Single Shots. These are represented by Pro Se Press and they are known as stories that will be featured in the upcoming book The Night the Jack O'Lantern Went Out.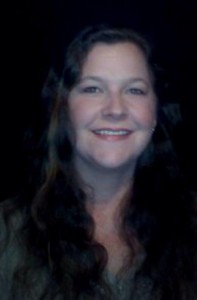 Louise Myers: Louise Myers was born in New Orleans and during her teenage years was uprooted from everything she knew and was replanted in Mississippi. Though the transition was difficult, she is very glad to have the opportunity to have both worlds under her belt. She says this because she knows from living in both places, they are both a world all to their own. She is the wife of a wonderful husband and mother of three beautiful children, as well as the proud parent of a spoiled mutt.
She was assistant editor of Southern Haunts: Spirits That Walk Among Us, co-editor of Southern Haunts 2: Devils in the Darkness, and co-editor of Southern Haunts 3: Magick Beneath the Moonlight.
She is a beta reader, book doctor, editor, and author. Though this is her second story in print, she has been weaving tales for many years for pleasure. She has many thoughts on several topics she'd like to write, mostly surrounding ghost stories.
You can also choose to review earlier installments in the series: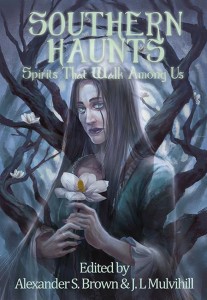 Southern Haunts: Spirits That Walk Among Us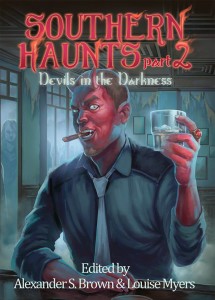 Southern Haunts 2: Devils in the Darkness
Sign up today to participate in the Southern Haunts Blog Tour!