Michael West
Featured Book Release:
Hades' Disciples
July 7 to 13 , 2014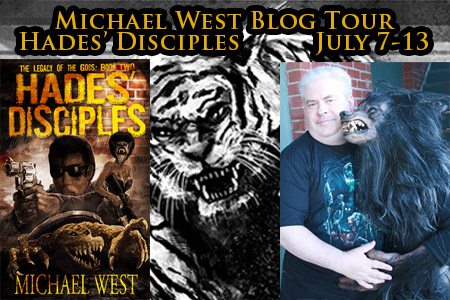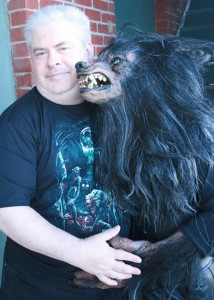 About the author: Michael West is the bestselling author of Cinema of Shadows, Skull Full of Kisses, The Wide Game, Spook House, and the critically acclaimed Legacy of the Gods series. He lives and works in the Indianapolis area with his wife, their two children, their turtle, Gamera, and their dog, King Seesar.
West avoids manhole covers and sidewalk grates whenever possible. He just doesn't know what's down there, and he's not sure he wants to find out.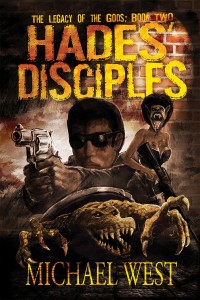 Book Synopsis for Hades' Disciples: Terrifying creatures exist all around us, hiding in plain sight. Ancient. Deadly. They gather in secret, conspiring, dreaming of nothing less than humanity's destruction, and their numbers are growing.
Earl Preston knows the danger all too well. After tangling with a horde of mythological sea monsters in Colonial Bay, he has been tasked with finding these beasts and exposing their plans whatever they may be. But Earl is not the only one with a mystery on their hands. At the very top of the world, Carol Miyagi has stumbled onto an artifact from Earth's past, something magnificent held captive in a prison of ice and snow. Now, Carol and Earl must work quickly to decipher the will of the gods–a plot that defies imagination–and to stop their followers from carrying it out.
They thought the nightmare was over, but they are about to discover that the horror has only just begun.
Hades Disciples is Book Two in the Legacy of the Gods Series.
Author Links:
Website: http://www.bymichaelwest.com
Twitter: @bymichaelwest
Facebook: https://www.facebook.com/bymichaelwestpage
Tour Schedule and Activities
7/7   Shells Interviews                          Guest Post
7/7   Come Selahway With Me            Interview
7/7 Beauty in Ruins                              Guest Post
7/7 Fuonlyknew ~ Laura's ramblins and reviews          Review
7/8 Deal Sharing Aunt                             Top Tens List
7/8 Jess Resides Here                       Top Tens List
7/8 I Smell Sheep                                Guest Post
7/9 SpecMusicMuse                            Interview
7/10 Coffintree Hill                                Guest Post
7/10 Armand Rosamilia, Horror Author   Guest Post
7/11 Bee's Knees Reviews                      Review
7/12 A Haunted Head                            Top Tens List
7/12 Willow's Author Love                      Interview
7/13 The Rage Circus Vs. The Soulless Void            Review
Tour Page URL: http://www.tomorrowcomesmedia.com/michael-west-hades-disciples-tour/
Tour Badge URL: http://www.tomorrowcomesmedia.com/wp-content/uploads/2014/07/HadesDisciplesTourBadge.jpg
Amazon Links for Hades' Disciples
Print Version
http://www.amazon.com/Hades-Disciples-Legacy-Gods-Michael/dp/1941706002
Kindle Version
http://www.amazon.com/Hades-Disciples-Legacy-Gods-Michael-ebook/dp/B00KBIB6W2